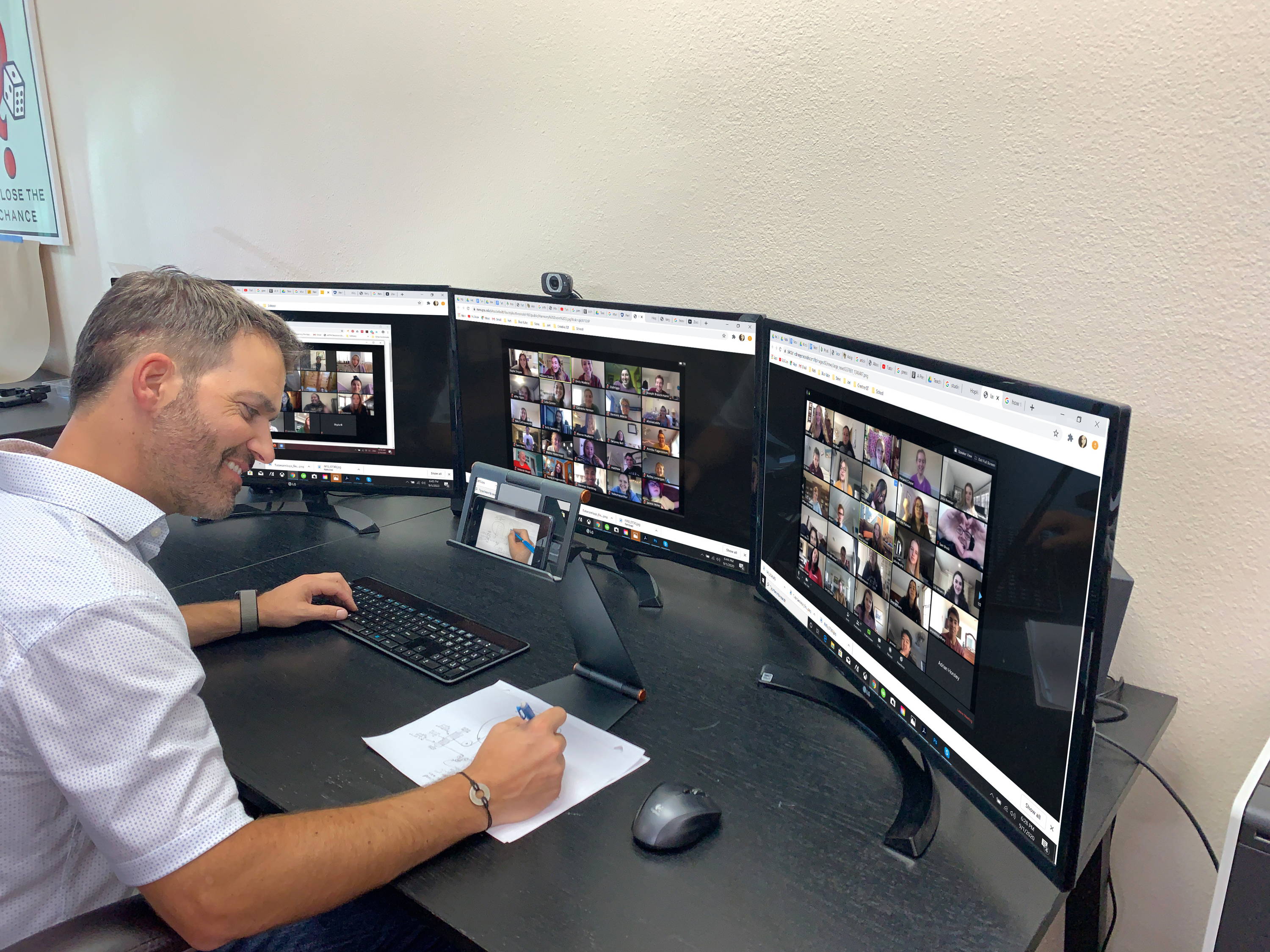 The gift that everyone wins with
Tutorcam Stands are the perfect Christmas, Hanukkah, Kwanzaa, New Year or birthday gift for your teacher. Tutorcam Stands are inexpensive, easy-to-use and help your teacher overcome the technology and other obstacles the COVID-19 pandemic has created with the sudden switch to remote learning.
They are a win-win.
Your teacher wins when they easily integrate a TutorCam into their Zoom, Google Meet and other video conferencing lessons.
Your children and other students in the teacher's virtual classroom also win.
What is TutorCam?
TutorCams are sleekly designed, functional, document camera stands that add an extra viewing window on video calls.
Students can still see the teacher's face, while the second window is focused on the teacher's desk. In real time, students can see the teacher's workbook or piece of paper. Students can watch as the teacher uses pencil and paper to work out a math problem. They can follow live as the teacher works through an English comprehension passage.
If the student has a TutorCam the teacher can watch live during the class as the student solves a math problem, performs a science experiment or works on cursive exercises.
Two Versions of TutorCam
There are two types of TutorCams. The TutorCam Pro can be used with an iPad, tablet or smartphone. The smaller, nimble TutorCam Go works with a smartphone. You do not need an app or additional software. Insert your smartphone or tablet into the TutorCam, sign into the online meeting you are already logged into with your laptop, PC or tablet and you create the extra camera view.
How TutorCam came to be
TutorCams are revolutionary and have a great backstory.
TutorCam's inventor, Brandon Kennington, came up with the idea in March when the pandemic shut schools. He volunteered to help teach a fifth-grade math class at his son's Los Angeles elementary school. Brandon could see the kids' faces on the Google Meet call. They could see his face. But Brandon struggled to demonstrate with his piece of paper and pencil how to work on the math problems. Immediately after teaching the class Brandon began sketching out TutorCam prototypes.
Today, as the pandemic continues to shut schools, they have become a teacher's best friend. NBC's iconic Today Show (see video here) featured TutorCams on a recent episode and declared they "upgrade every virtual learning experience".
Brandon also wanted to make a difference and help teachers who were struggling financially or with technology. He announced in October he was giving away 100 TutorCams to teachers. He called the campaign "One Hundred Heroes" and asked students, parents and faculty colleagues to nominate their hero teacher and explain why he/she deserved a TutorCam. The stories we received made us cry, laugh and glow with admiration
TutorCam gift cards are available on the TutorCam website to make buying one for your teacher easy.
FOR MORE INFORMATION:
Website: www.tutorcampro.com
Facebook, Instagram, Twitter: @TutorCam
YouTube: TutorCam
MEDIA CONTACT:
Peter Mitchell
Email: peter@bluekube.com
Phone: 310 941-7714
MARKETING CONTACT:
Maria Elena
Email: maria@bluekube.com
Phone: 432 235-0597
FOR BULK PURCHASES AND/OR INFORMATION ON PURCHASE ORDERS FOR SCHOOLS AND DISTRICTS CONTACT: 
Julie Kennington
Email: julie@bluekube.com
Phone: 805-701-9988